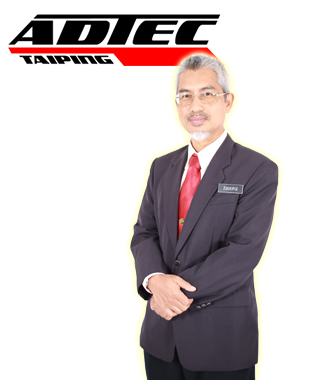 Assalamualaikum and Selamat Sejahtera....
I represent ADTEC Taiping welcoming visitors to our official website. ADTEC Taiping is the abbreviation to Advanced Technology Training Centre or Pusat Latihan Teknologi Tinggi which is an Institusi Latihan Jabatan Tenaga Manusia (ILJTM) under Human Resources Ministry. ADTEC Taiping main role is producing skilled labour that is competitive to satisfy nation industry needs. ADTEC Taiping offers opportunities to school graduates, graduates from Institusi Latihan Kemahiran and workers from skill industry to enhance knowledge and also high-class skill. ADTEC Taiping also provide skills training services that is ideal with advanced equipment system in order to fulfil industrial needs in this country.
In accordance with that , hopefully all informations prepared can be a helping hand in order to know and understand about ADTEC Taiping role more detailed, and to ensure ADTEC remains as one of the pioneer institution skill in Malaysia. It is hoped that visitors, especially youth and industry sectors who visit the ADTEC Taiping website will get the latest information and all the informations will be accsessed more easily and quickly.
ADTEC Taiping will be continuosly forged and sincere to perform task and giving best service to improve humanity, strengthen local organisation and nourish goodwill spirit among ADTEC population and Malaysian society generally. May all efforts and the noble struggle will always get willingness and beautification from Allah SWT. Any enquiries and recommendations are most welcomed for common good.
Finally, we need to learn and remember from the past experience. Experiences mades us mature in decision-making. We should continue what is good and succesful and always made improvement by learning from our mistakes. While for those whom failed, it needs to be learn as a lesson .
Thank You.
Director of ADTEC Taiping
Email: This email address is being protected from spambots. You need JavaScript enabled to view it.